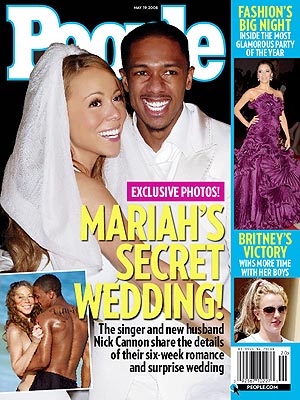 People magazine
Not only are the Mariah Carey/Nick Cannon rumors true, but Oprah has the pics to prove it.
Winfrey revealed exclusive People magazine pictures of the duo's wedding today on her show today -- nearly a week after Carey (and Cannon backstage) appeared on the show.
Oprah pal Gayle King -- who talked to Carey backstage during last week's taping -- said she didn't think the duo knew they were going to get married when Mariah was there.
The talk show host one-upped her best friend and said Mariah was well aware she was getting married because she was sporting a "Mrs. Cannon" tattoo on her body.
"Mariah told me herself that she has never felt this way about anyone in her whole life," King said.